Under the Cross: Living in the Light of Christ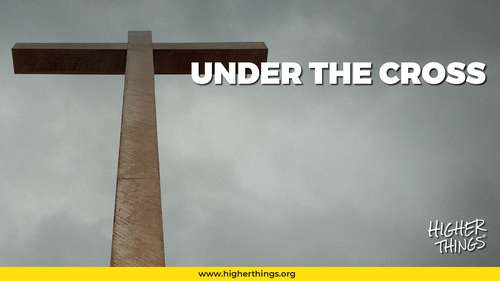 God is light. The sun's got nothing on your Lord Jesus! He doesn't need a
main-sequence star
in heaven because He Himself is the light that lights up the universe which is filled with His Calvary-won love. God is a bright, shining, unapproachable, undark light.
Hell is dark—a cosmos without Jesus. In the world—darkness everywhere. It's night. It's a darkroom and a loveless, empty place of suffering, sin, and death. Darkness is not where God dwells.
Jesus isn't just a candle in a dark room. Jesus is the Light of the world. In Him, there is no darkness at all. His light lights up the world! He shines in the darkness and the darkness can't overcome Him
(John 1:5)
.
Sometimes we feel full of light. Sometimes, it seems like there's no light at all. But either way, there's this nagging, tugging, condemning doubt that we aren't enough—not bright enough to light up the darkness. What if all we think is light inside ourselves is really just more of our darkness? That would really show how great our darkness is, wouldn't it? What a dark and terrible thought!
St. John answers, "If we say we have communion with Him while we walk in darkness, we lie and do not practice the truth"
(1 John 1:6)
. So, no light when we sin, only darkness. But if that's true, then how can we ever be light? We can't! That leaves us with the impossible realization that if it's left up to us to shine or not shine, we are in a really dark place for all time! If there's no darkness in Him and we sin in our darkness, can He love us? How do we know? How can we ever be sure?
You aren't the light. Jesus is the Light of the world
(John 8:12)
. His light is the Light of men (John 1:4). His Light is your Light. In Him, you are full of light. Outside Him, you are only darkness and you live in darkness.
You see, being in the light doesn't mean that you are perfect or shine on your own. That would make you the Light. Being in the light is confessing your darkness! "If we confess our sins, he is faithful and just to forgive us our sins and to cleanse us from all unrighteousness"
(1 John 1:9)
.
Confess your darkness. Receive His forgiveness. That's how you live in the Light! Deny your sin, you make Him a liar, and His Word, His Light, isn't in you
(1 John 1:10)
. But if you confess your sins, if you walk in the Light, you have communion with one another and the blood of Jesus cleanses you from all sin
(1 John 1:7)
.
To be forgiven, that's to be in the Light! To confess your sins, that's living in the Light—covered in the blood of the Light of the World shed for you on the Cross and delivered to you in the Lord's Body and Blood. Then, and only then, when your sins are confessed and forgiven, can you be light to others. You aren't the sun. You reflect the Son. His Light shines in your light and you are able to love and forgive others.
God is light. The sun's got nothing on your Lord Jesus! In Jesus, the sun has nothing on you, either! He's your light. You light up the world for others—which is really just His lighting up the world for others. Then, in Him, forgiven, one day you'll see His glorious throne and the Light that gives light to all men: your Jesus. Until that glorious day, the Light shines in the darkness—for you and for others through you.
Rev. George F. Borghardt is the pastor at Immanuel Lutheran Church in Bossier City, Louisiana and serves as the president of Higher Things.